In 1963, Polly Anna was learning something new. Known as Grandmother Powell to her family and a few other volunteers, she was mastering the art of gluing plastic pipe. All over Alberta, farmers still had wood piles. They bought coal and relied on propane trucks, because gas companies couldn't afford to bring natural gas to rural homes. The distance from farm to farm was prohibitive. Grandmother Powell wanted heat and, along with her neighbors, took the matter into her own hands. Literally. As part of Alberta's first natural gas co-op, she put pipe in the ground herself to help build a distribution system that is now part of the world's largest rural gas system.
It wasn't the first time this had happened in Alberta.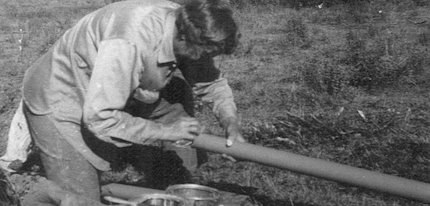 In the 1950s, the Investor Owned Utilities had refused to deliver electricity to rural districts, so neighbors did it themselves. They planted poles, rigged up power lines and formed electricity co-ops. These Rural Electrification Associations or REAs still bring electricity to many parts of the province today.
When Grandmother Powell helped dig trenches and lay pipe in the 1960s, she understood you can't wait for change. You need to initiate it.
Gas Alberta Energy (GAE) was established from this same thought process. GAE believed commercial energy customers were being underserved during the early stages of core market deregulation in Alberta and recognized that there was a better way to procure energy and reduce customers' costs. GAE's longstanding success reflects our steadfast commitment to create innovative energy solutions that benefit our customers.